Offer
Team and individual athletic, agility, intellectual competitions, played in the process of having fun together. They are selected according to the nature of the event and the type of scenario.
Jumping "commandos" – the team receives a rope, and after a short workout at a certain time they must simultaneously jump over the rope.
Traverse games – obstacle course enriched with various thematic sections to be overcome in the shortest time.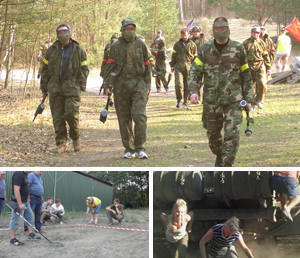 Rope bridge – crossing the track suspended in the trees.
Transport of the injured – one of the "injured" participants is carried through the obstacle course. The wounded, despite the injuries, has to perform numerous tasks.
Crossing the wires – the team must cross a large meshed net of wires without touching them.
Disarming "mines" – the group using a metal detector must find a hidden tank fuel canister, moving through the minefield.
Crossing the marshes – the team receives a pair of multiplayer skis on which they must pass a specially prepared obstacle course.
Throwing a knife at the target – participants will learn techniques of throwing a professional military knife.
Downhill on the so-called Tyrolean ziplines – the task of participants is to touch as many balloons as possible on the way.