Offer
Activities with gunpowder weapons – replicas of trapper rifles RANGER 45″ and the American Confederate revolvers – Colt Navy Confederate. Activities are combined with presentation, learning to load and fire.
Air rifles and pistols – the participants have at their disposal air rifles and guns, which are true copies of real weapons, for example rifles straight from the Wild West – Winchester 73 or handguns – Walther PPK, which is a favorite weapon of the movie agent James Bond. The competition is held on a field firing range, over a distance of approximately 15 m, and the targets are for sports shooting.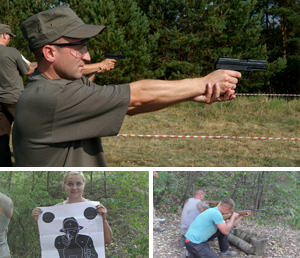 Paintball maneuvers – ALFA and BRAVO teams play maneuvers in forest areas. All dressed up in suits and masks, receive paintball markers and ammo. Strategy games are implemented according to prepared scenarios.